A History of Muay Thai
Introducing You to the Art of Eight Limbs
People in different countries spend their Sunday afternoons watching a preferred sport of their choice. People in the US may watch either American football, baseball, basketball, or ice hockey; depending on the season. People in the UK might watch soccer or rugby. Those in the South American nations may be getting ready for soccer. But in Thailand, it's clear that Muay Thai is the national pastime of the people and the national sport of the Land of Smiles. In the afternoon on weekends in Bangkok, you'll see people of all backgrounds getting comfortable in front of a television screen in their homes or workplaces, crowds surrounding a ring on the screen before two fighters engage in combat on the screen. That's when you know they're tuning in to the Muay Thai programs.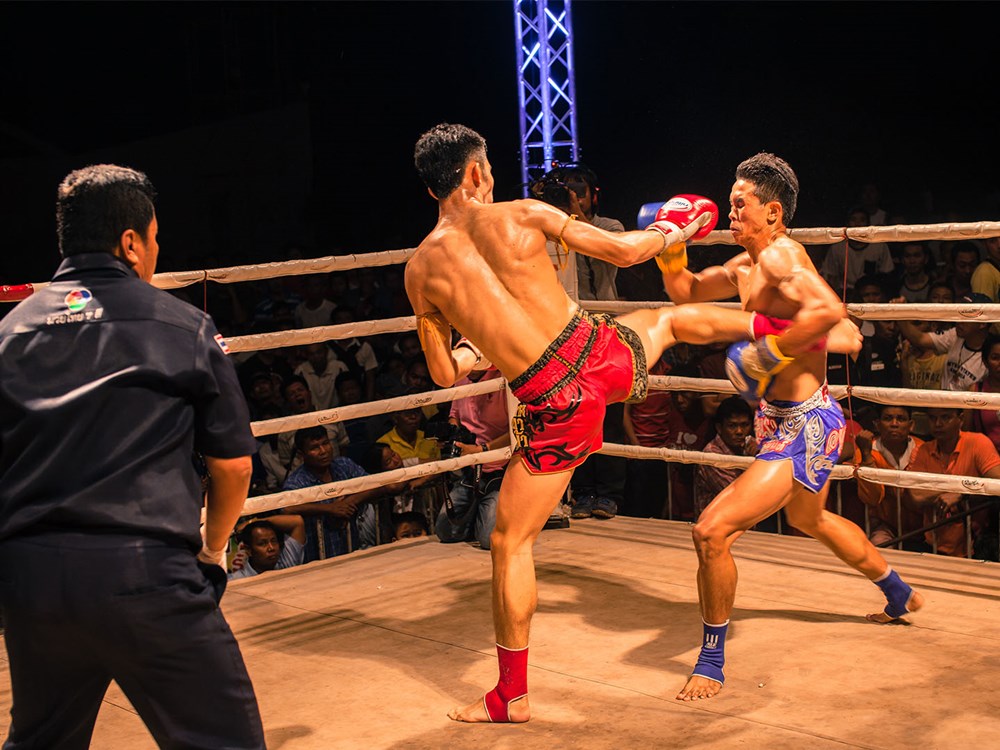 (Photo courtesy of Shutterstock)



Origins of Muay Thai
Archaeological evidence suggests that Muay Thai, along with the other Southeast Asian styles of kickboxing, originated from the Khmer Empire as it controlled the vast majority of what is now modern-day Cambodia, Thailand, Laos, and Vietnam. Today, Cambodia has Kun Khmer, Laos has Muay Lao, and Thailand has Muay Thai. While different in name, these three sports are very similar in style. But with a lack of written records, it's difficult to verify if Muay Thai and its neighboring counterparts actually began in the Khmer Empire.

Though the true origins of the sport are open to debate, records of Muay Thai can be traced back to the 13th century during the Sukhothai Kingdom, when the first Thai army was assembled. Their military training included hand-to-hand combat (weaponizing the body) and use of weapons. The hand-to-hand aspect would evolve into what is now known as Muay Thai.

Then there is also the infamous story of the historical figure with hand-to-hand combat skills by the name of Nai Khanomtom, who was captured by the Burmese in 1767. Legend has it that he was given a chance to fight for his freedom. The story goes that he knocked out 10 Burmese opponents in a row and Nai Khanomtom would be granted his freedom. This historical event is celebrated every March 17 in Thailand as National Boxer's Day.

Now, let's explain Muay Thai's rather poetic nickname: "Art of Eight Limbs". Why eight limbs? Because eight points of contact are used in this sport. The first two are the fists for punching (chok), which is the same as Western boxing. The second set of points are the elbows (sok). Next, you have the feet for kicking (te). And finally, there are the knees for striking (ti khao). This is a combat sport with perhaps the most points of contact (aka parts of your body you can use for striking); probably second only to Myanmar's lethwei, which is similar to Muay Thai but is fought with no gloves and permits the headbutt.

In Thailand, their were two major stages for Muay Thai where a fighter could compete and make a name for themselves: Rajadamnern Stadium and Lumpinee Stadium. Champions of either stadium were considered the best in the country and were valued north of 1 million Thai baht (muay ngern laan). It was these fighters who would go on to compete on a more global level, usually fighting against foreigners who were trained in a different sport (such as karate or Dutch kickboxing).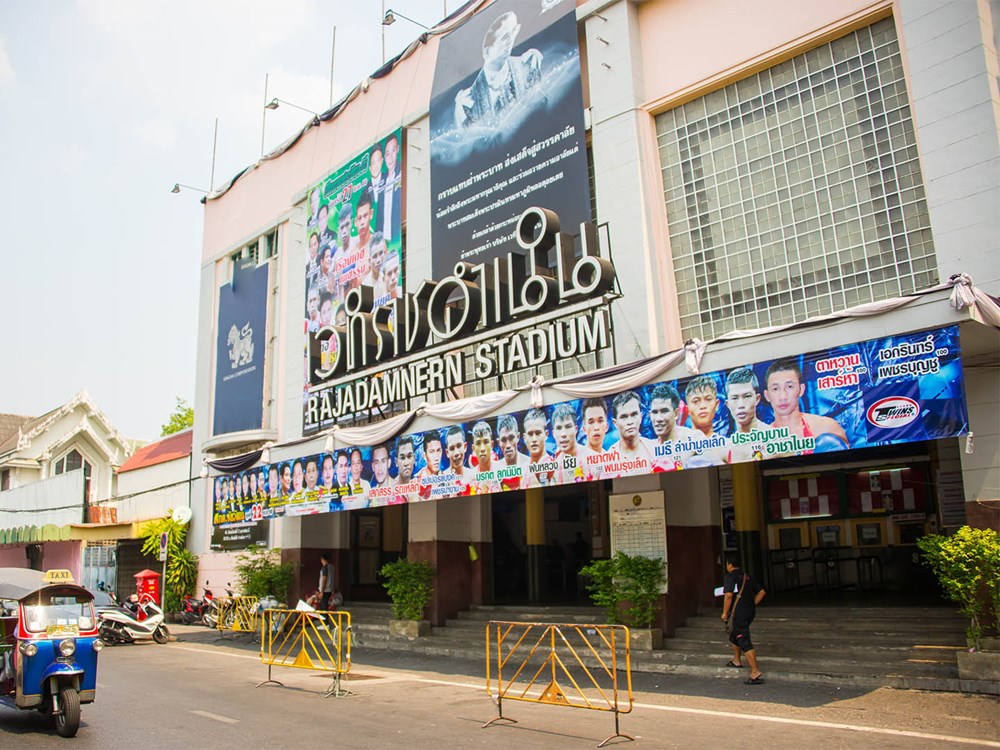 Rajadamnern Stadium, one of two premier venues for Muay Thai fights.
(Photo courtesy of Shutterstock)



Muay Thai's International Influence
Muay Thai has achieved international widespread popularity from the late 20th century to the 21st century. It was a time where Thai fighters began competing in different countries around the world under either kickboxing rules or Muay Thai rules. One fight that changed the course of history for Muay Thai forever took place on November 5, 1988. Thailand's Changpuek Kiatsongrit faced America's Rick Roufus. Despite being outsized by 7 centimeters and 23 kilograms, as well as getting knocked down twice, Kiatsongrit won the fight by KO with leg kicks, a lethal move that continues to be used today in both Muay Thai and kickboxing. This was perhaps the fight that brought Muay Thai to the attention of the international combat sporting world.

This also began a phenomenon of accomplished Thai fighters being sent overseas to compete in large-scale international competitions, mostly under kickboxing rules. Among the most well-known of these fighters was a young Buakaw Banchamek. While there had been those before him, Buakaw was one of the first to achieve success in the K-1 kickboxing competition in Japan. First competing at K-1 in 2004, he went on to win two tournaments, including the 2004 K-1 World MAX and the 2006 K-1 World MAX. From then on, he was considered a national sporting hero in Thailand.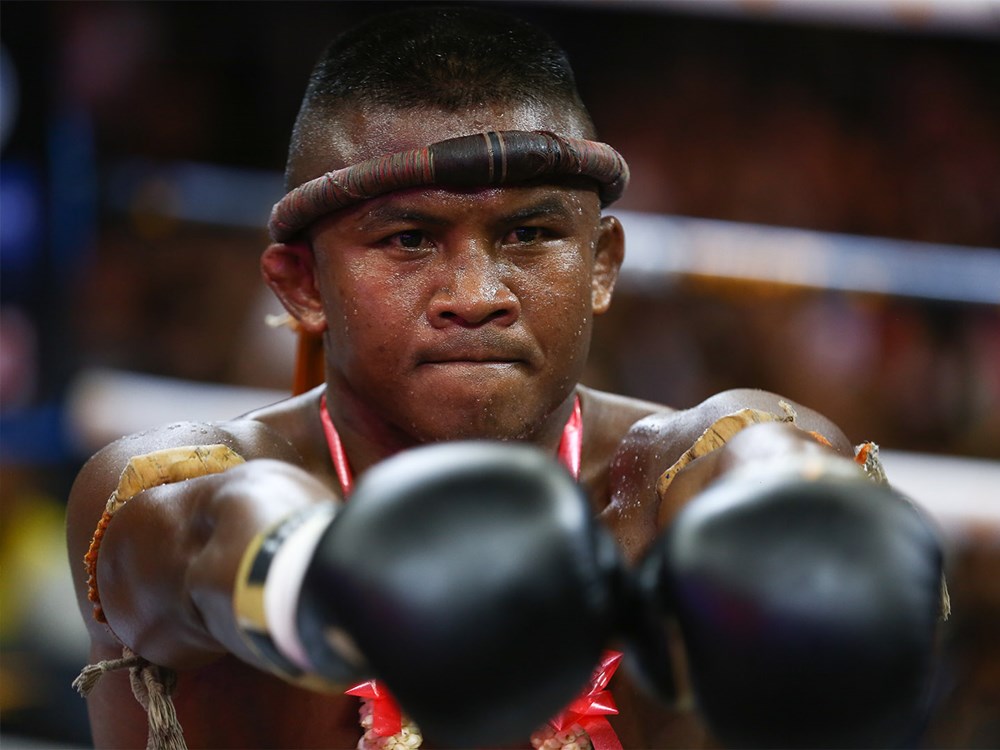 (Photo courtesy of Shutterstock)


On the other hand, those from other countries have taken a keen interest in the sport that is Muay Thai, with some going as far as to relocating to Thailand in order to train to become full-time fighters. It's impressive how these foreigners are willing to take the extra step to commit themselves to a sport. In turn, Muay Thai gyms have also opened up in different countries around the world; including the United States, England, the Netherlands, and France.

While it has yet to be hosted at any of the Olympic Games, Muay Thai is recognized by the International Olympic Committee. Who knows? In the near future, we may actually even get to see this sport in the Olympics. Muay Thai is also a sport that is included in the World Games, being first introduced in the 2017 World Games in Poland. Furthermore, it is a staple sport in the Southeast Asian Games, aka the SEA Games, having been part of the event since 2005.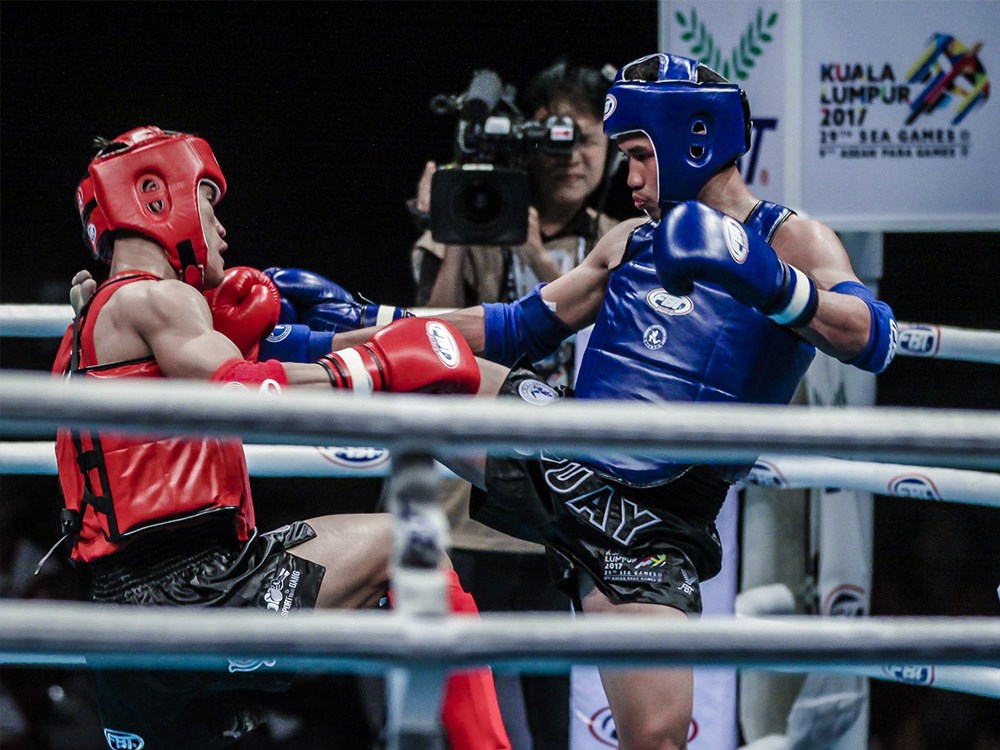 Muay Thai athletes at the 2017 SEA Games in Kuala Lumpur, Malaysia.
(Photo courtesy of Shutterstock)



Muay Thai & Exercise
Over the years, from being just a brutal combat sport for spectators, Muay Thai has also evolved into an alternative form of exercise that continues to grow in popularity. Many commercial gyms throughout Bangkok and Thailand have started offering Muay Thai classes to customers looking for a different approach to exercise without having to invest in going to an actual Muay Thai gym. Already a physically demanding sport, Muay Thai as a means of exercise is perhaps one of the most efficient forms of cardiovascular exercise. It's amazing how the combination of punching and kicking helps burn calories at an impressive rate.

Additionally, it's a more proactive exercise that's more exciting than simply running on a treadmill or pushing away on stationary bicycle. Exercise Muay Thai is almost identical to the training regimen of your everyday Muay Thai fighter. You work on your punching and kicking against a set of pads held by a personal trainer or your training partner. This is the most basic of cardio Muay Thai workouts. In the exercise version, there are different types of punches: the jab (mat yaep), the hook (mat wiang san), and the uppercut (mat soi dao). When it comes to kicking, the most commonly practiced kick is the roundhouse kick (te tat). These moves can also be practiced on a heavy bag as well. But to implement these moves so that they can become an effective cardio workout, they must be combined into a series of combinations. This ensures the burning of calories.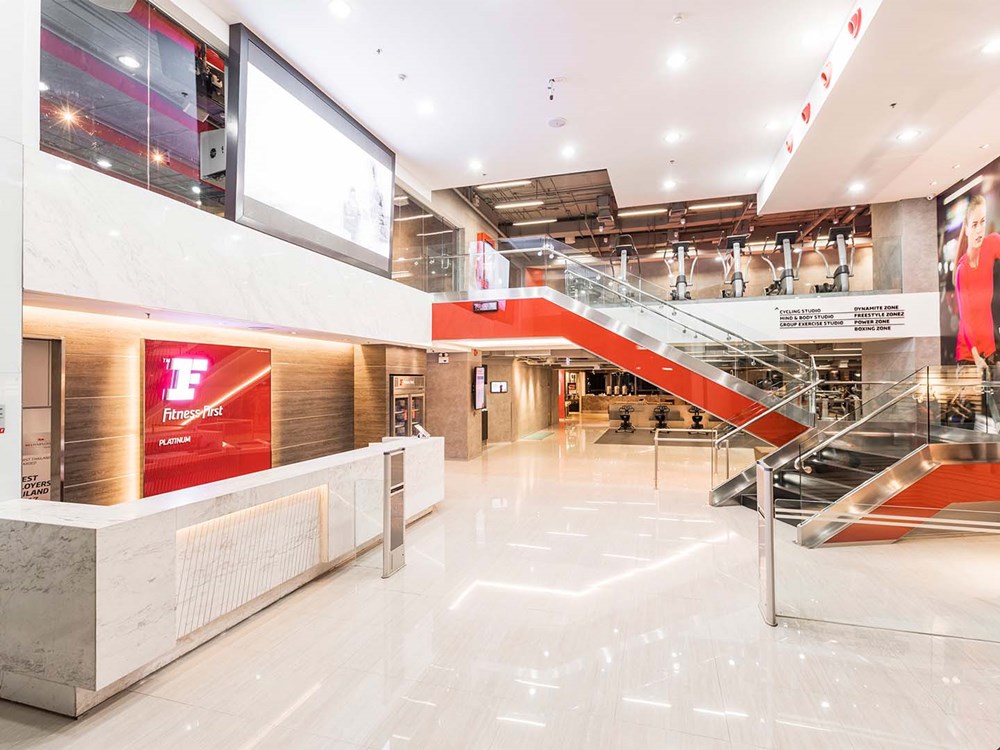 If you're looking for a place to get some quality Muay Thai-oriented exercise, Fitness First Platinum Siam Paragon on Siam Paragon's 4th floor is the ideal place for you. The facilities are extensive, complete with the equipment you need for fundamental Muay Thai training. Basic equipment such as gloves, punching mitts, and kicking pads are readily available. Of course, when it comes to Muay Thai (or boxing), heavy bags are necessary, in addition to speed bags. A scaled-down ring is also provided for some light sparring and is a great place for one hour of Muay Thai cardio, where you can spend time striking pads. But this is only the tip of the iceberg when it comes to Fitness First Platinum Siam Paragon's boxing facilities. It is also one of the few fitness centers that houses the Star Trac Boxmaster, which allows for solo sparring, priced at an upward of 100,000 THB. This state-of-the-art training equipment allows you to master your punches and kicks with both strength and precision, providing you with numbered targets. Furthermore, you can adjust its pads accordingly as if you were facing an opponent of a different size.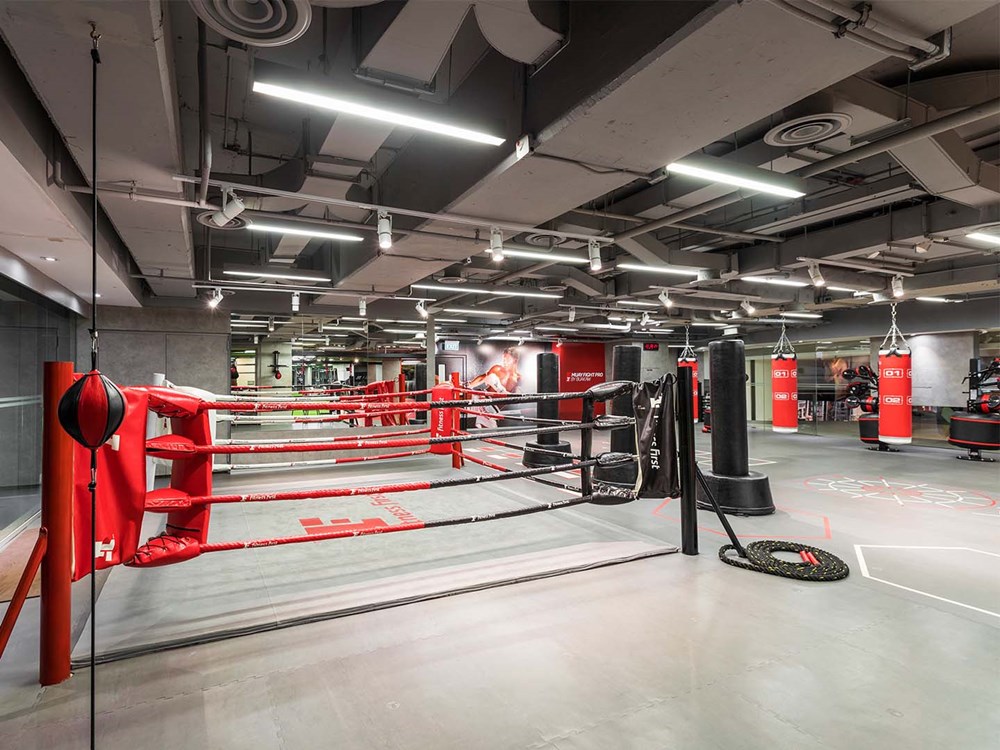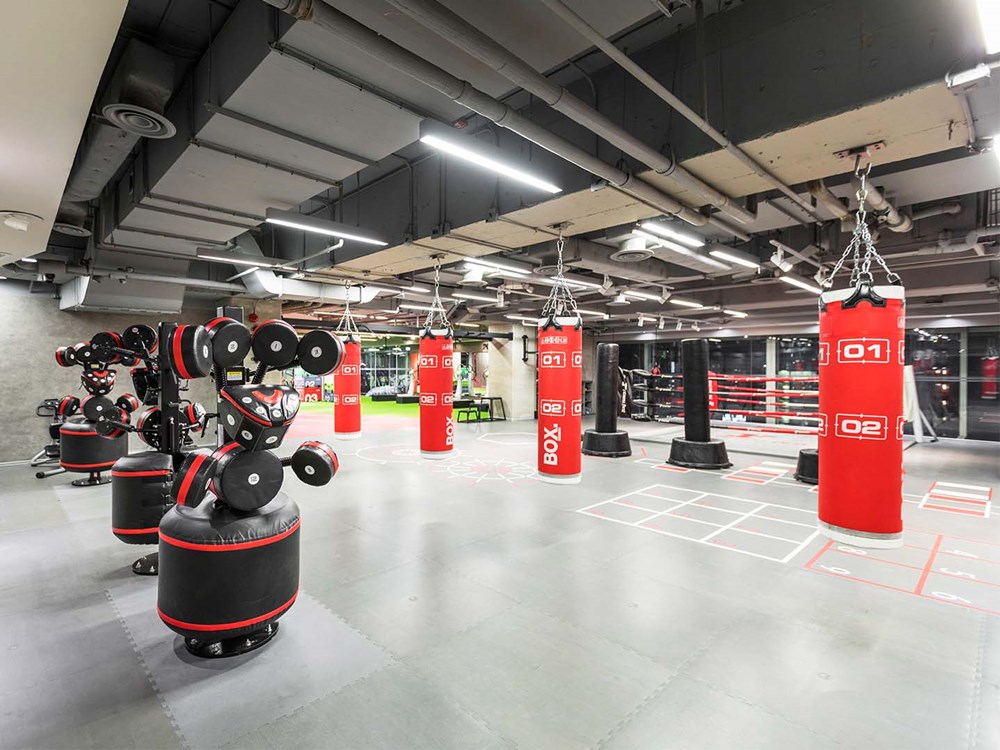 Fitness First also offers the "Muay Fight Pro by Buakaw" class, a freestyle workout that spans 30 minutes. This class involves jabs, crosses, and kicks combined with a number of conditioning exercises that will have you moving in different directions while using your body weight. This is probably the closest you'll ever get to a real Muay Thai fight during exercise, being capable of burning up to 740 calories. However, the purpose of Muay Fight Pro by Buakaw is to increase your fitness level, stamina, endurance, agility and strength.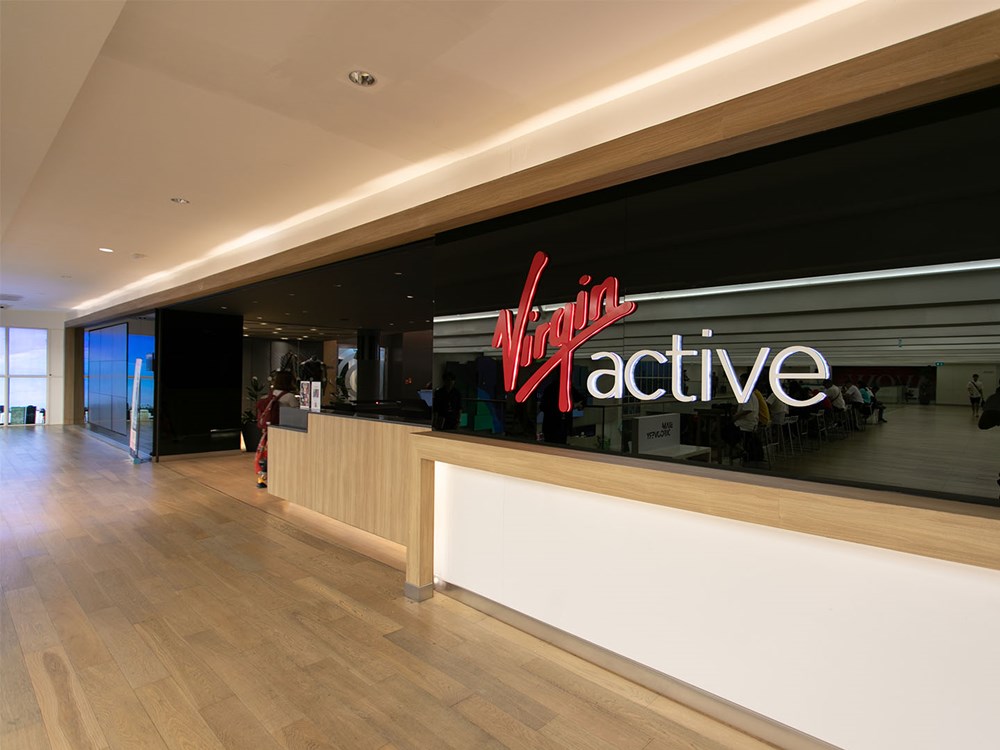 Additionally, there are traces of Muay Thai present at Virgin Active on Siam Discovery's 5th floor. Like any other fitness center, typical equipment like gloves and heavy bags are readily available. With just these, customers can work on perfecting their punching and kicking techniques. Again, this won't turn them into championship fighters but it will certainly help them burn calories and, ultimately, give them a fitness boost. Aside from regular sparring, Virgin Active also offers a class called "Body Combat". Here, you can kick and punch along to the rhythm of some energizing music in a martial arts-inspired workout, which will undoubtedly have some influences of Muay Thai. It's a great way to relieve stress while also having good fun through exercise.

So if you're getting tired of the conventional methods of exercise, like running or weight training, exercise Muay Thai (or cardio kickboxing) is always an alternative that is worth exploring. It is highly intense but never short on fun. It is also guaranteed to burn more calories than the conventional cardio workouts like walking, running on a treadmill, or stationary cycling. Sometimes, the thrill of the fight might be just what you need!



Conclusion
Muay Thai is Thailand's national sport and will forever be a part of Thai culture. It has a colorful history, despite its debatable origins. Thailand's best fighters have helped bring recognition to the sport and solidified its reputation as one of the most significant martial arts in the world. Furthermore, it's also received a great deal of appreciation from those around the world. Not only from Thailand's ASEAN neighbors like Myanmar, Cambodia and Laos, but also from Western nations like the United States, the United Kingdom, France, Russia, Australia, and the Netherlands, to name a few.

This sport, once merely a national pastime for the people of Thailand on the weekends, has reached global recognition to the point where athletes of different nations have turned to practice Muay Thai. In the past, it was only the Thai people who flooded Rajadamnern Stadium and Lumpinee Stadium to see the top-level Muay Thai fights. But today, you begin to see foreigners filling out the crowds. The awareness of Muay Thai has evidently spread to other corners of the world. Because of this, Muay Thai has been immortalized and will probably be around for a long time.