A Destination for Denim, Vol. 1
Explore Siam Paragon and the Denim Goods It Has to Offer
In Siam Paragon, home of luxury and premium goods, there are also a select few places that house a collection of denim. Most of these are high-end, premium-grade brands that may not always focus on denim but when they do, they end up producing top-of-the-line denim goods; be it jeans or jackets. The two following brands are a prime example.


Off-White, M Fl.
Known particularly for being a "high-end streetwear" brand, Off-White doesn't shy away when it comes to denim. At first, when you think of streetwear, it's easy to assume that they only focus on denim jeans. However, that's not the case with an unorthodox brand like Off-White. Sure, they do have their fair share of jeans but that's just the tip of the iceberg when it comes to denim. At Off-White, they find other applications for denim. What other applications? Check it out down below!

First, we start off with the basics with Off-White's "Main Label" cropped leg denim jeans, available in dark blue with white stitching.




Denim is not only restricted to pants. Here, as part of Off-White's "Denim Label" collection, we present the Bleach Ruffle Skirt, which is essentially a pair of jean skirts. Off-White's iconic crossed arrows logo just outside the right pocket. Another unique feature is the skirt's ring-shaped zipper tab.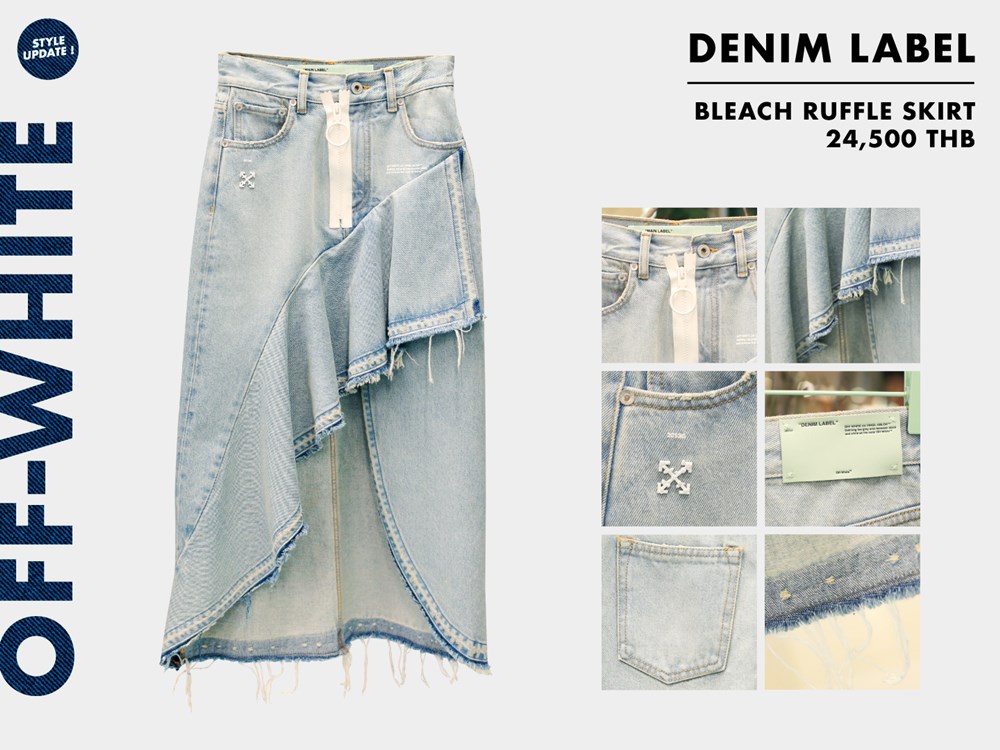 Here, Off-White gets a little experimental. The "Main Label" Fleese Side Panel Jeans can be considered as a hybrid mix between the laidback sweatpants and the smart-casual jeans. The sweatpants aspect of this pair of jeans is evidenced by the sides that are made of fleece, in addition to the tying lace that goes around the waist. These pair of jeans help define "high-end streetwear".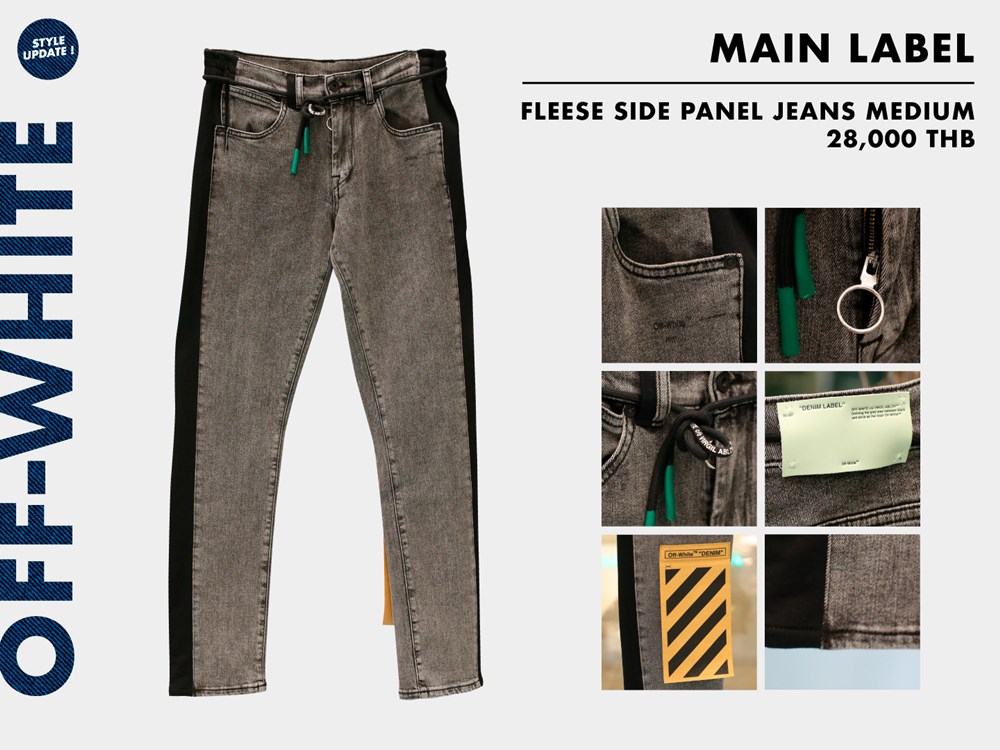 Denim isn't also just for your lower body. This hooded coat, the "Parka Extreme Bleach Red", is another piece of Off-White's "Main Label" collection. Actually, the Parka Extreme is somewhat a hybrid of a sweater and a coat. The sweater part can be seen with the accompanying hoodie than can be pulled up whereas the coat part can be seen with the length of the Parka Extreme; it goes nearly all the way down to the ankles. This is one large piece of denim.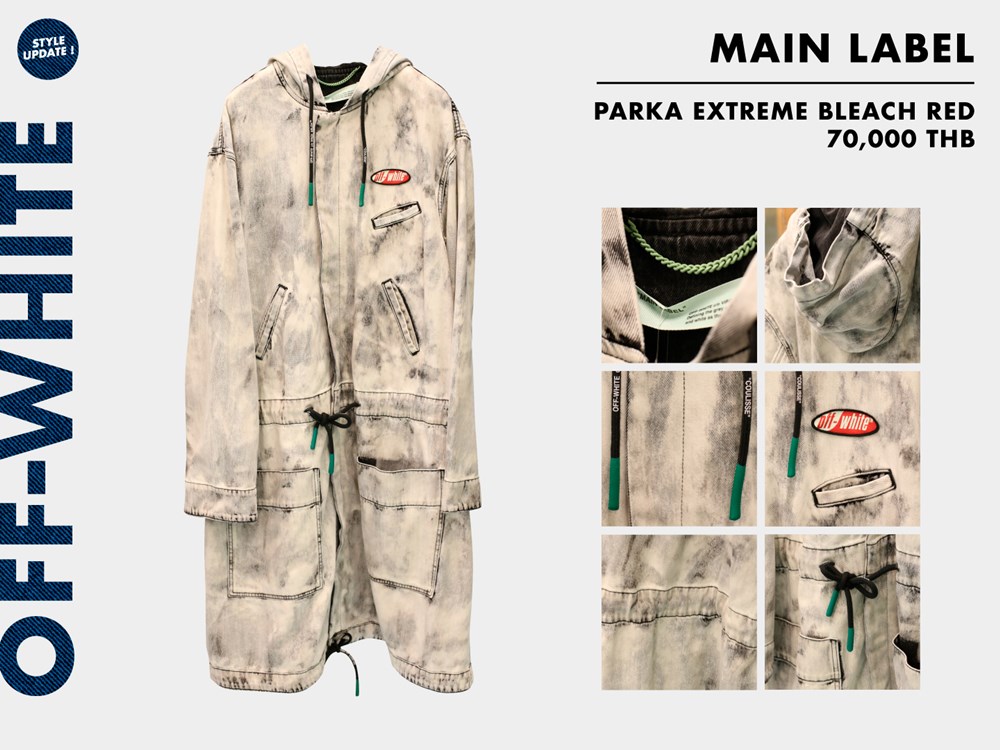 Now, we take things to a new level with Off-White's "Special Collection". One prominent piece of this collection is the JMB low-crotch slim fit black jeans. Elements of streetwear are present on these pair of jeans with the artwork, which draws inspiration from the renowned street artist Jean Michel Basquiat. In fact, the letters JMB are the initials to his name. The JMB slim jeans also come with a belt as well.




Off-White once again finds another application for denim with its "Dondi Coat". As the name says, it's a long white coat with the appearance of a lab coat that you'd see scientists wearing. But we're talking about a coat made completely out of denim! In a world where brands make denim jackets, there is Off-White that makes denim coats. The graphics on the Dondi Coat also exude a strong influence of street culture.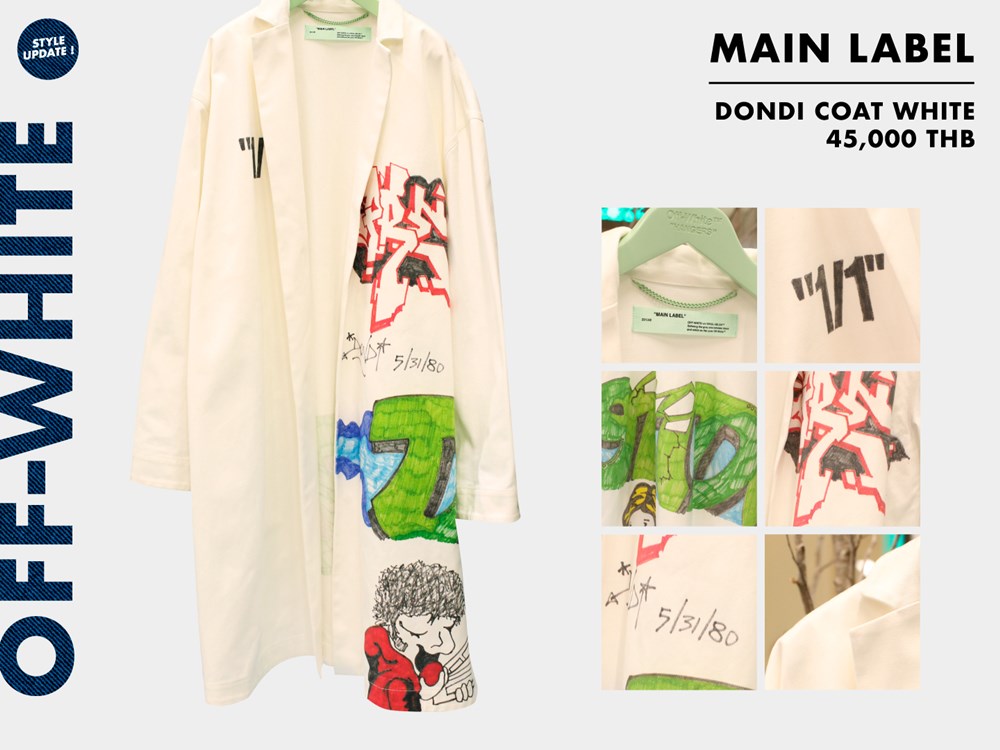 Paul Smith, 1st Fl.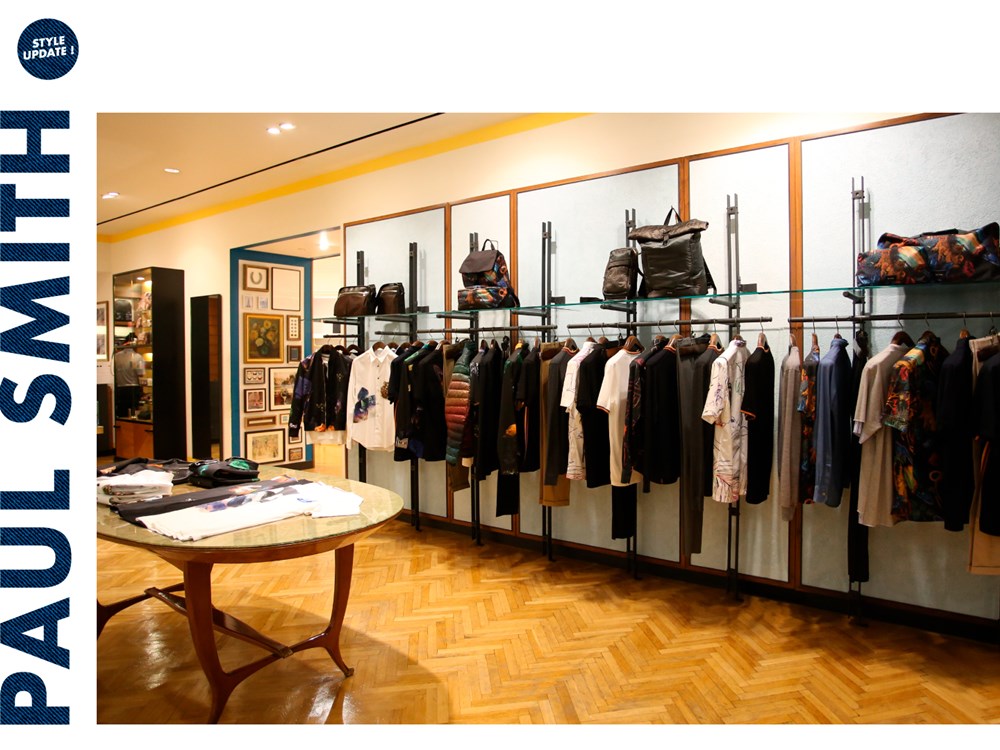 Paul Smith was founded by a designer of the same name in England in 1970. In particular, it is the PS Paul Smith brand that prominently features denim jeans as part of its collections. Designed in London, PS Paul Smith is the new, youthful men's collection that includes colorful cotton items, sportswear-inspired designs and, last but not least, a wide array of denim. The jeans at PS Paul Smith usually come in two models: Slim and Slim Standard.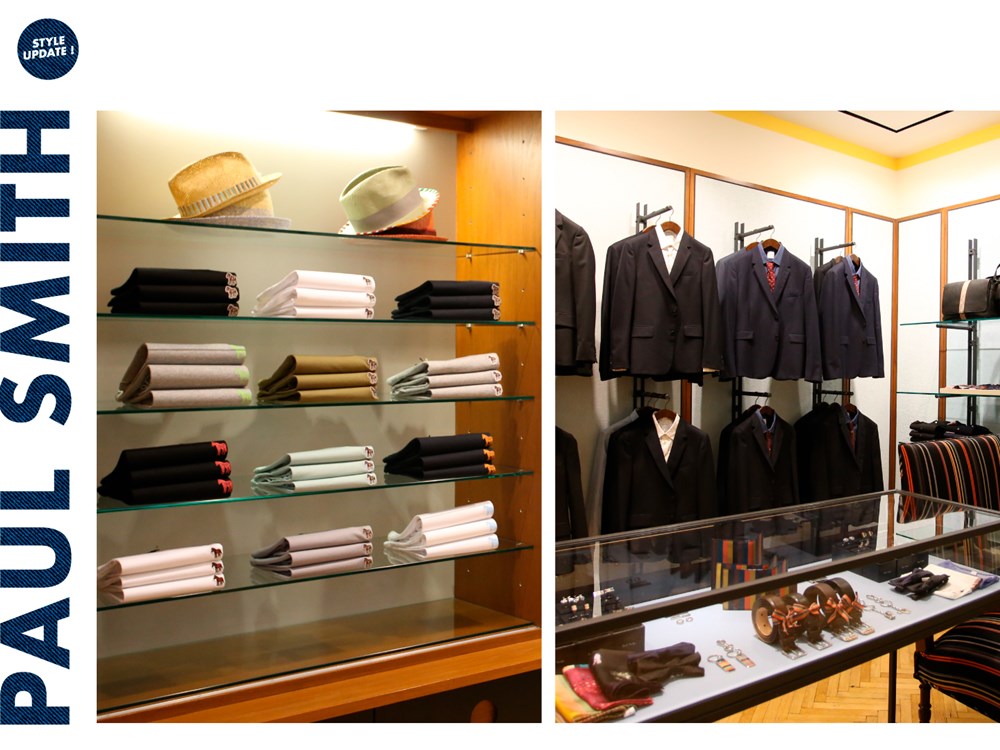 It's safe to assume that PS Paul Smith plays to the appeal of the current era: slim jeans. These are basically the only model of jeans provided at the store. Nevertheless, it is this type of jeans that go along well with a wide variety of tops, be it a t-shirt or a windbreaker, as you can see below.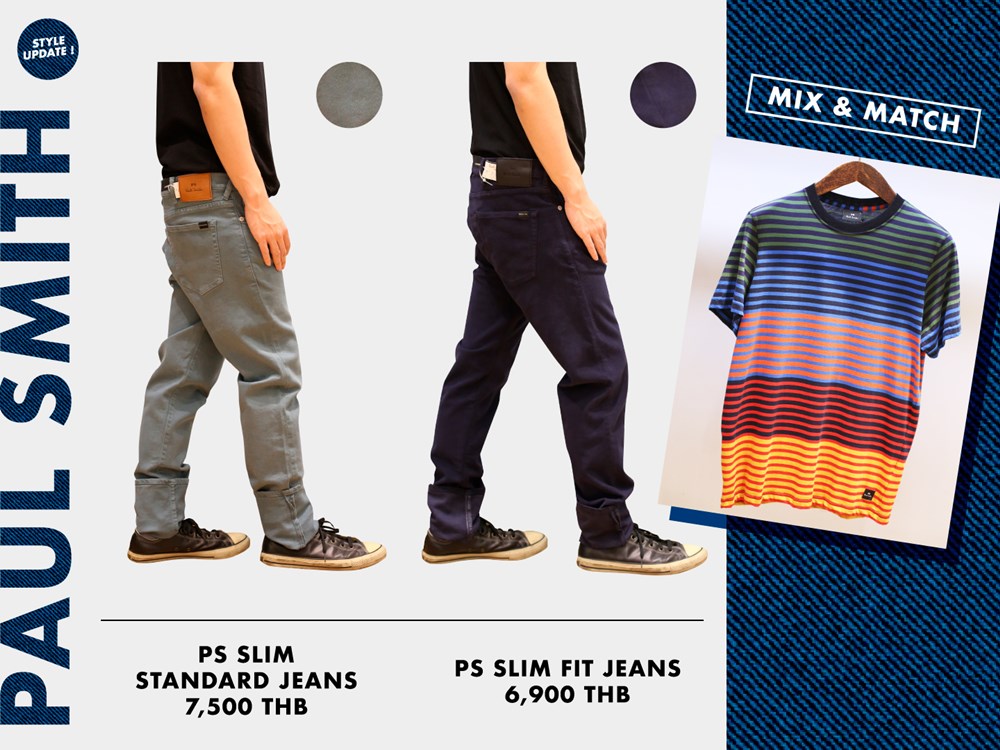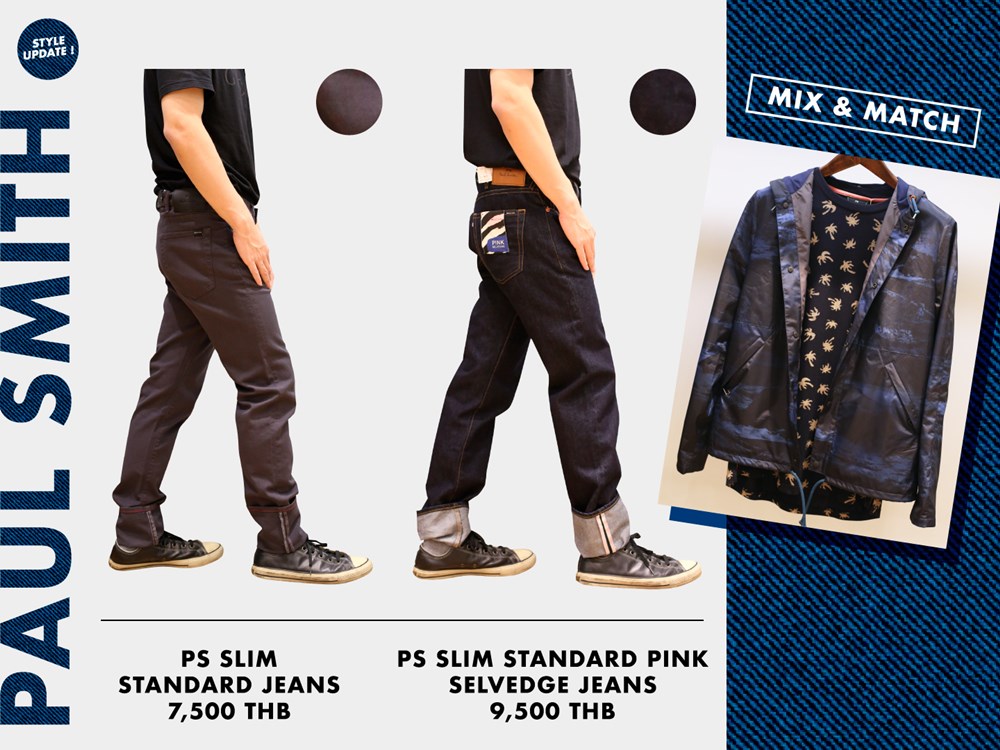 Right now, one of the more unique denim items in the Paul Smith store is the "Pink Selvedge Slim Standard" jeans, a part of the PS Paul Smith's special "Pink Selvedge". Instead of your typical five pockets, the Pink Selvedge features a hidden sixth pocket at the rear.


These are your ultimate destinations for denim when in Siam Paragon. Be amazed with what these stores have to offer.

You can find more denim stores at both Siam Center and Siam Discovery.