KHAO CHAE: THE RETURN OF ONESIAM'S SIGNATURE SUMMER DISH
A remedy for the heat and a taste of Thainess all in one menu
Literally translated, khao chae is rice that is soaked in cool water. It may not sound like much but it's actually a dish that requires a lot of skill in preparation and is quite the sight for sore eyes once properly served. It's considered to be a special dish that is rare and can only be eaten during certain times of the year. In essence, khao chae is more or less a seasonal item on the menu available during the hot season. Siam Paragon presents to you 4 popular places where you can order authentic, traditional khao chae akin to the ones served in the palace.


How to enjoy your khao chae… the traditional way
According to the wise folks, there is a golden rule in which the rice in the flower-scented water cannot be on the same spoon as the condiments. Therefore, you must first eat one spoonful of the rice/water mixture and then follow it up with a spoonful of any of the condiments. This process can also be done in reverse, in which you take a spoonful of any condiment followed by a spoonful of the rice/water mix. Furthermore, the condiments must not be placed into the bowl containing the mix of rice and flower-scented water. This is how the khao chae–that is the mixture of rice and flower-scented water–is kept pure. It is considered to be the correct way of eating khao chae in accordance to the customs of earlier generations.


Khao Dessert Café, G Fl, Siam Paragon
After enjoying so many of the desserts at this place many times, this year's hot season sees Chef Vichit giving the khao chae, a staple food of Central Thailand, a visually epic twist. His rendition of the khao chae sees the rice being soaked in water using the scent of the bread flower (vallaris glabra). The condiments include rich-flavored shrimp paste balls, stuffed red onions, and a deep-fried mixture of snakehead fish and egg yolk. This dish is distinguished by the vibrant colors of the deep-fried salted egg yolk and shredded radishes. It's got a sweet flavor to it while the shredded pork is rather mellow. This set will cost you 690 THB and is enough to fill up 2 stomachs.
You can come try this dish from now until May 15, 2019.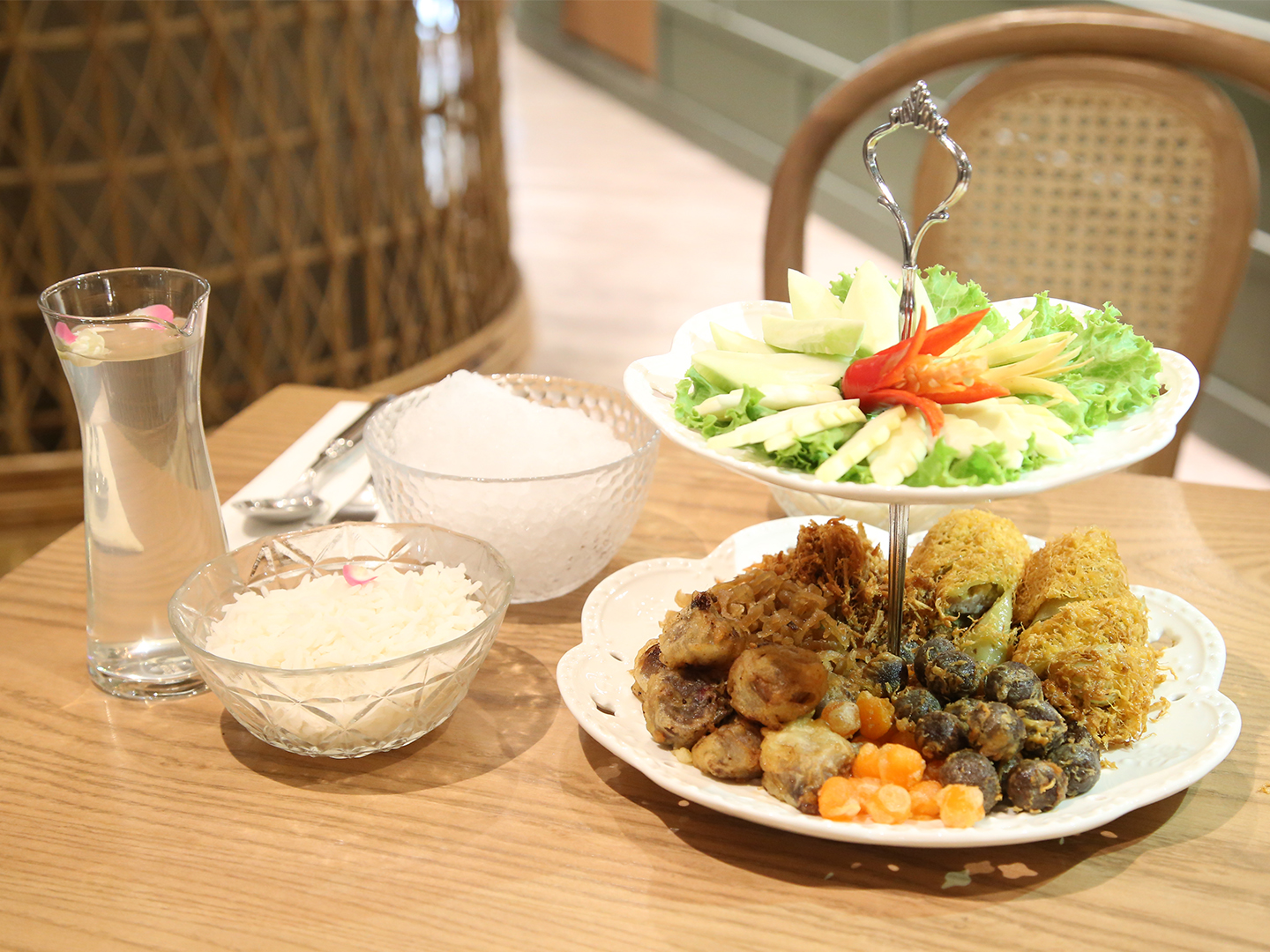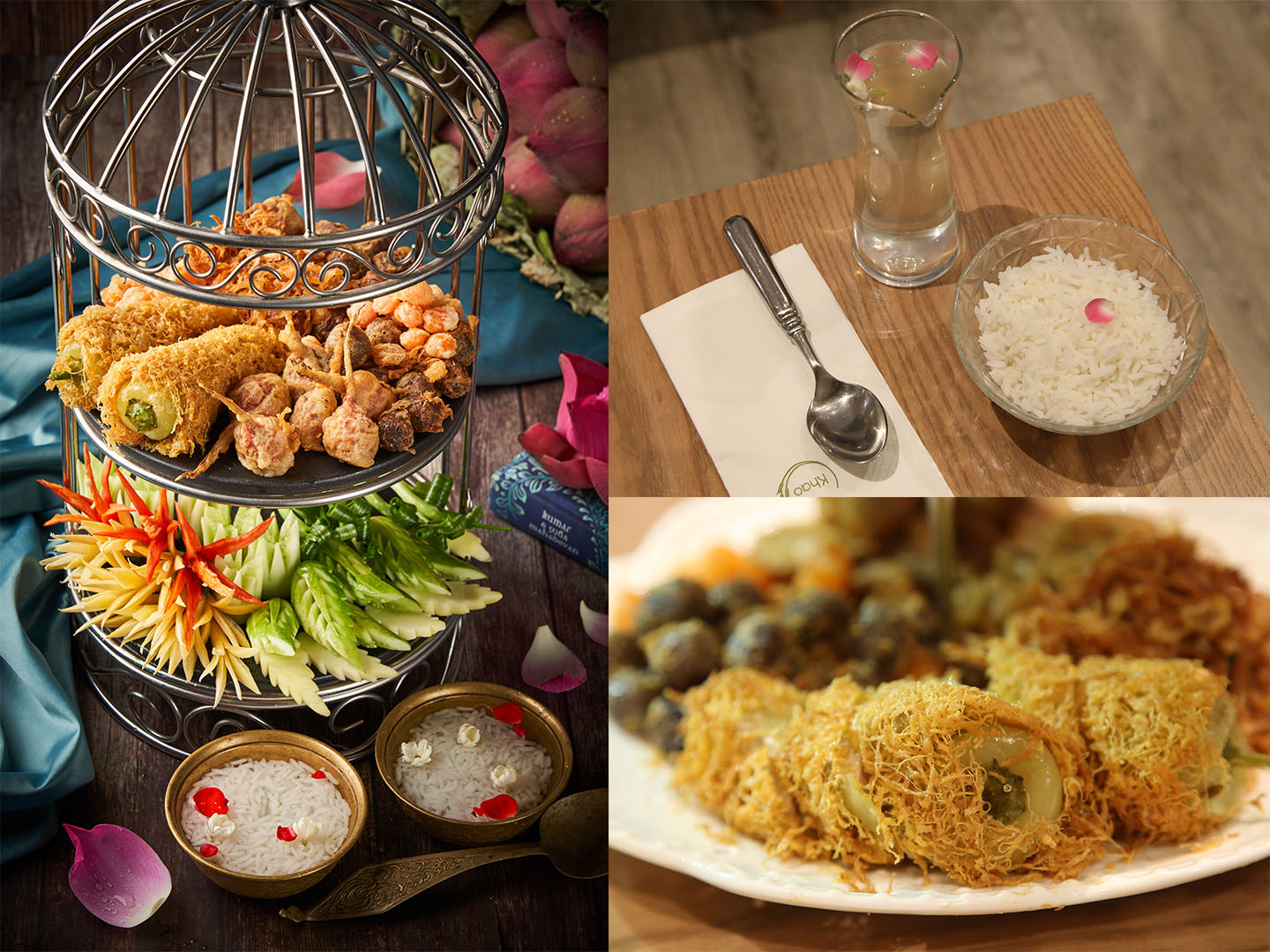 Nara, G Fl, Siam Paragon
This khao chae set most certainly gets an A in terms of its visual presentation, not to mention the fact that it exudes so much Thai culture with the miniature hawker's basket. The khao chae itself is served in a Benjarong bowl and, upon the first bite, you can taste the fragrance of the scented candle that smells of various summer flowers as it touches all of your taste buds. Nara has also managed to round up an impressive collection of condiments. These include shrimp paste balls made from snakehead fish, lemongrass, fingerroot, onions, and shrimp paste. Once shaped, the shrimp paste balls are dipped in egg and fried in dough. Alternate between eating the shrimp paste balls with stuffed onions, stuffed bell peppers, shredded pork and sweet fish, as well as the carved vegetables, and you'll get quite a flavorful experience. This 425-THB set is also accompanied by the sweet "Thip Nara" beverage, a drink made from watermelon, coconut juice, and syrup. It comes in a fancy bottle and you can drink it from a glass filled with tiny watermelon pieces.
This is certainly a khao chae set to remember.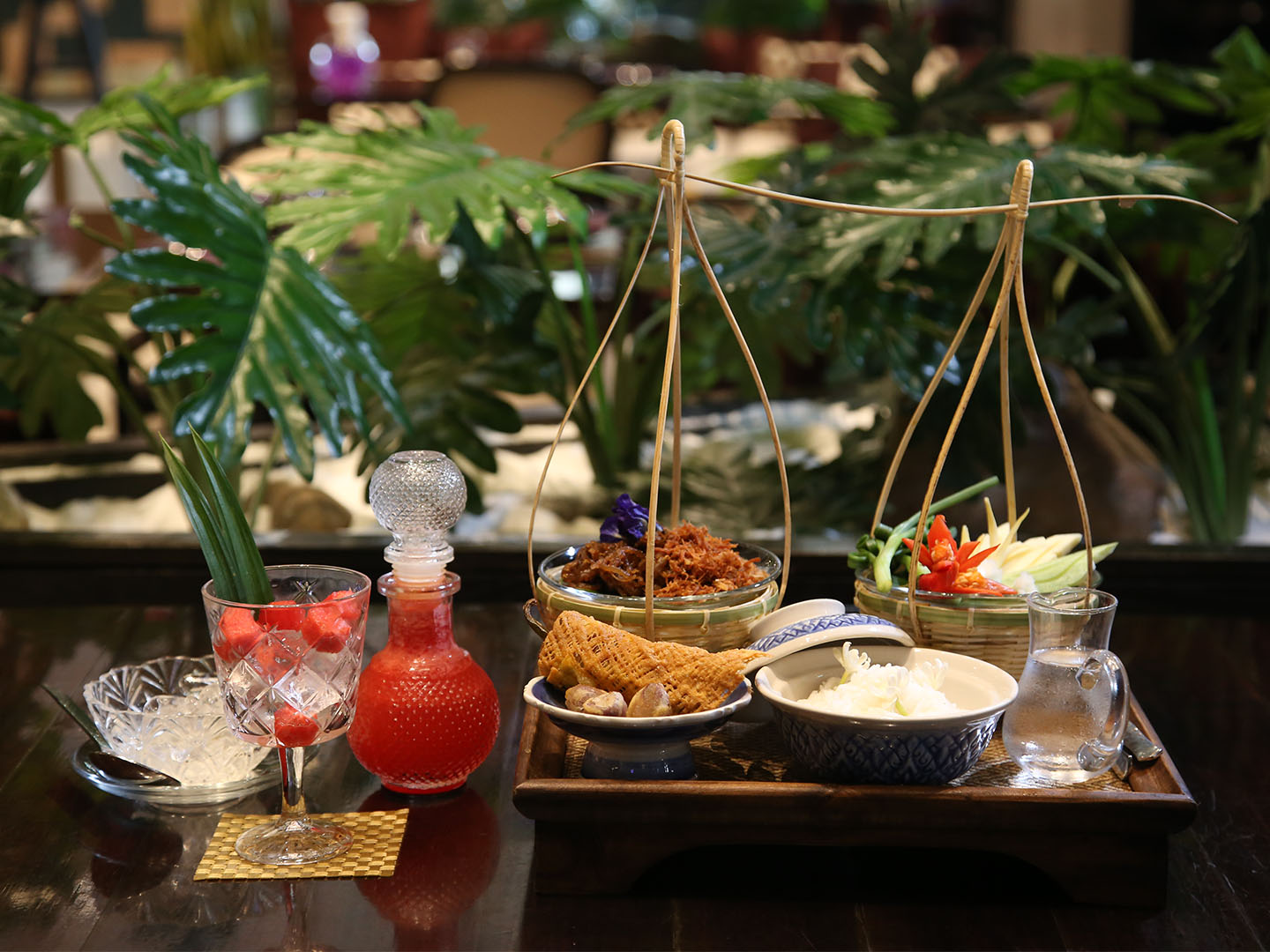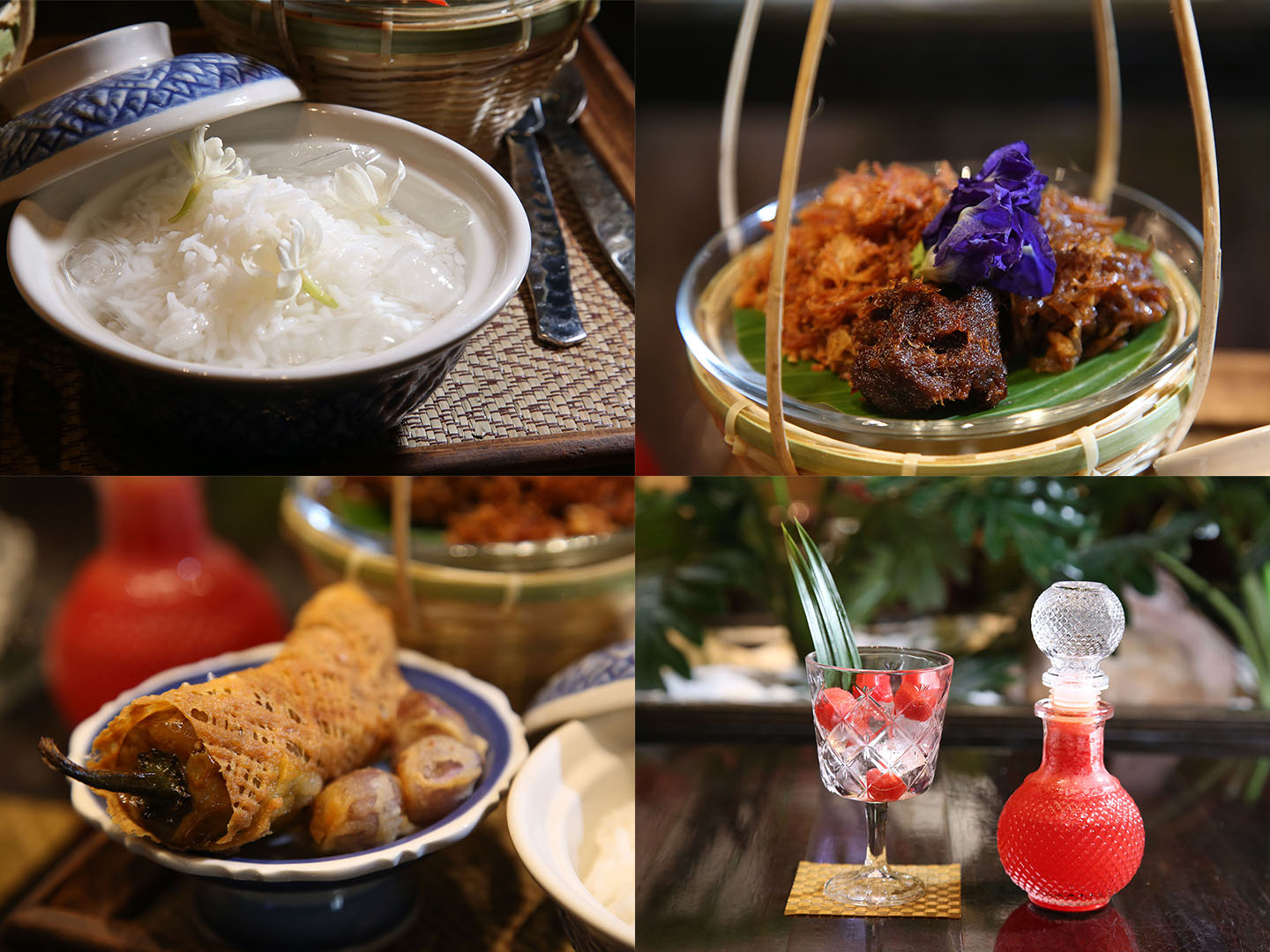 BOMBYX, M Fl, Siam Paragon
If you want to try khao chae, then BOMBYX is another place you've got to visit. There, they have their signature "Jim Thompson Khao Chae", a palace-style rendition of the khao chae that is supposedly prepared in accordance to the original recipes. This version of the dish uses two colors of rice, white and blue. The blue rice gets its color from pea flowers. The scented water here also gets its fragrance from a scented candle. Accompanying the khao chaei are the following condiments: deep fried shrimp paste balls, stuffed bell peppers, stuffed red onions, deep-fried pork and threadfins, and fingerroot stir-fried with fish and eggs. Topping it all off is the iconic dessert of mango and sticky rice, a can't-miss during this hot season. This set is available for 550 THB, both for eating in or to go. You can also get it as a gift set in a bamboo basket for 850 THB.
This khao chae set is available until June 15, 2019.


The Mandarin Oriental Shop, G Fl, Siam Paragon
The khao chae, which is the perfect remedy for the heat during the hot season, was introduced at The Mandarin Oriental Shop at the beginning of April, undisputedly the hottest month throughout Thailand. Their version of the dish implements the royal palace recipe, making use of jasmine rice and jasmine-scented water steamed with candle smoke. This rendition of the khao chae is made all the more complete with its accompanying condiments, which include fried shrimp paste balls, fried salted eggs, shredded pork, sweet stir-fried fingerroot, red onions stuffed with fish meat, bell peppers stuffed with shrimp and pork with herbs. Furthermore, you've also got fresh vegetables and fruits that have been carved with precision.